Wedding Venue Watertown, NY
"Grow old along with me; the best is yet to be."
Windmill Acres is a barn wedding venue located in Watertown, NY. Featuring a massive yet charmingly rustic barn hand built by the owner himself, our stunning location is perfect for your wedding, graduation, or retirement party. Less than 10 minutes from downtown, the venue combines the convenience of the city with a backcountry farm feel.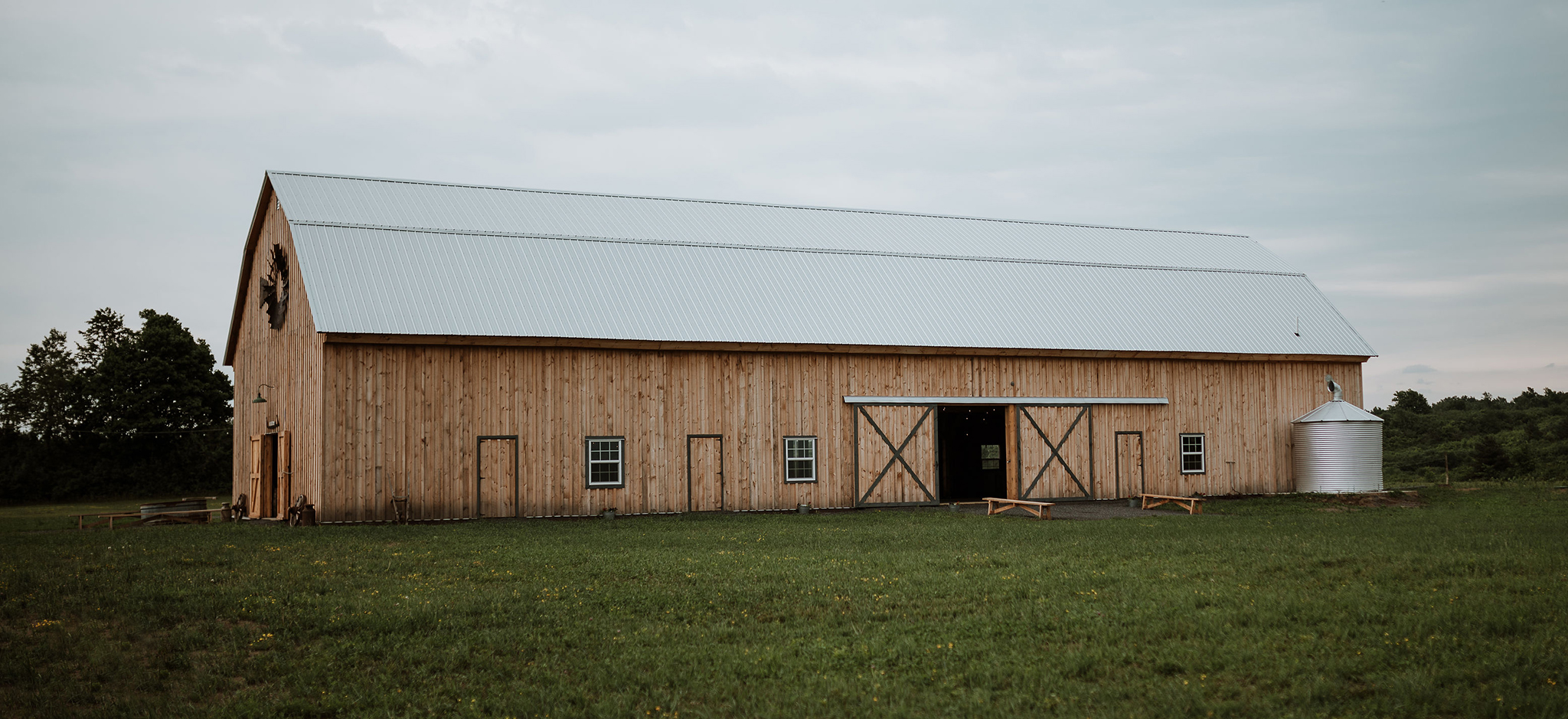 Post & Beam Barn
Our gorgeous 4800 sq/ft hand built barn is a sight to see. Seating up to 250 guests, the post & beam barn supports a grand 30 ft ceiling with rustic hanging wagon wheel light fixtures. Enormous 20 ft sliding doors on each side of the barn create a seamless transition to the outside party.
Private 15 Acre Lot
Your guests will appreciate the ample space to move around during your wedding day and the short 5 minute drive from Watertown. With nearly limitless parking, our spacious lot borders nothing but farmland and our enchanting wheat field. Conveniently located next to the barn is a stone fire pit and 30 ft tall Amish style windmill.

Amenities Included
We'll make sure all the details are covered, so you don't have to. Included on site amenities include: a 20' x 14' air conditioned bridal suite, tables & chairs, dance floor, built in bar, bathrooms, free wifi, hand made rustic benches for outdoor ceremonies, and a spare room for catering use.

What Our Couples Are Saying...
Let's start by talking about how absolutely breathtaking the venue is! The owners are absolutely amazing and would bend over backwards to make your day perfect for you and your family! Best experience I've ever had with a venue or people in general! 100000% would highly recommend!!
I can't say enough about how wonderful this venue is. It is the most beautiful barn to have your wedding in. The She-shed was the perfect spot to get me and my girls ready as well as the perfect spot for my kids to hang out, get cool, and take a breather. The staff is beyond amazing. They helped me set up, they cleaned up after the wedding, and had everything cleared and put in a corner for me to pick up the next day. So helpful, so pleasant, words can't describe how grateful I am for John and Nancy and family. If you're looking for a place to have your wedding or next party, this is it!💕
John and Nancy are some of the most genuine, caring people and wish only for the best for what ever special occasion you are celebrating at their venue. From the first encounter with them to the very last they put mine and my husbands needs/wants first.
We can not say enough about this stunning Venue! John and Nancy are beyond helpful in planning every little detail to ensure that your wedding is everything you hope for. The setting is beautiful and the barn is nothing short of perfection. It was the best Wedding Day exceeding all our expectations! We will never forget our Barn Wedding!
We attended my Husband's Cousin Rebekah Keefer and her Husband Randy's wedding this weekend 6/24/23. We cannot say enough about this venue! We are from Vermont and made the treck 5 1/2 hours not sure what to expect, from the DJ, food and especially the hospitality of this family that runs this you are a 5 star plus plus plus! We planned on helping clean up on Sunday but it was already done by the venue staff. We recommend this place if you want a beautiful picturesque barn with a nice peaceful fire pit , a wedding photo camper, big open dance floor and the wooden seating area and arch outside for the ceremony with a real windmill💕
An absolutely beautiful and wonderful place to hold an event!! Highly recommend! The owners are fantastic! The atmosphere is terrific!! 110% a perfect venue❤️🙏💝😎❤️